Congratulations to our international Lebanese artist DONA MARIA who won a spot on The Indie Top 50 Vol. 489 mix tape to her Hot Hit PALABRAS #16 Lyrics and music by DONA MARIA.
https://itunes.apple.com/us/album/palabras-single/id650683527
https://www.youtube.com/managernet
http://coast2coastmixtapes.com/mixtapes/mixtapedetail.aspx/the-indie-top-50-vol-489
Yes Lebanon have an international artist called DONA MARIA
This is how Dona Maria entered the Middle east music oriental goes from her new way creation and sure through her extraordinary VOICE
تهانينا للفنانة اللبنانية دونا ماريا التي حصلت اغنيتها باللغة الإسبانية الجديدة "بلابرس" من كلماتها لحنا وغناءً على مركز #16 في المكس تايب العالمي التوب 50 ولتوزيعه عالميا ضمن مجموعة اغاني لفنانين عالميين وهكذا تدخل موسيقى الشرق ألى الغرب بصوت لبناني وكلمات لاتينبة للفنانة المتالقة دونا ماريا ومن جديد وبعد اغنيتها نو كييرو ولا مش عيزة بويدو اولفيدار وكده هنساك الان بلابرس وتقول دونا ماريا ان التركيز الان على كلام كتير واللغة العربية الى الغرب مجددا ودائما ، ونحن نقول: لبنان لديه مواهب دائمة الإنتشار عالمياُ.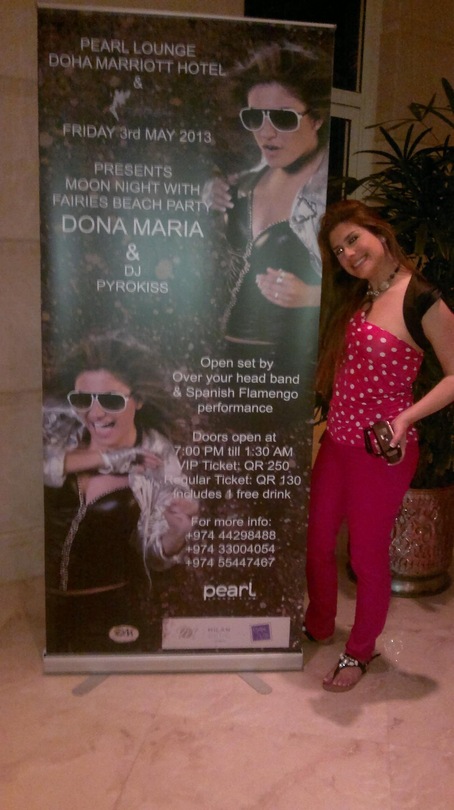 تستعد الفنانه دونا ماريا لاطلاق اغنيتها الجديده الجديدة التي سيتم إطلاق النسخة العربية منها قبل الإسبانية
الأغنية تحت عنوان كلام كتير من كلمات غناء وألحان دونا ماريا أما النسخة الإسبانية سيتم الإعلان عنها في القريب العاجل انشالله وشكرا
الجدير بالذكر انا دونا ماريا اقامت حفلا ناجحا في الثالث من مايو هذا الشهر , ولاقي الحفل نجاحا كبيرا
DONA MARIA CONCERT
Dona Maria Concert  at Marriott Hotel pearl Lounge Doha,  get 2000 crowds tickets sold was a huge success, Dona Maria appeared in a very special way like she always appear in her videos and to the people they like her music with a special music, songs and performance act .
Dona Maria performed and sing live all of her songs and she includes her unreleased new double version Palabras (Spanish Vesrion) and Kalam Keteer ( Arabic Version) music and Lyrics by Dona Maria the new double version will first be on Itunes and amazone for Dona Maria's lovers to get the chance to get the double version before the radios releases and official ones…
DONA MARIA EN VIVO CONERTO
Dona Maria Concierto en el Hotel Marriott de la perla Lounge Doha, obtener 2.000 entradas vendidas multitudes fue un gran éxito, doña María apareció de una manera muy especial como ella siempre aparece en sus videos y para la gente que le gusta su música con un especial de música, canciones y acto rendimiento.
Dona Maria cabo y cantar en vivo todas sus canciones y que incluye sus inéditas nueva versión Palabras dobles (Español Vesrion) y Kalam keteer (Arabic Version) Música y letras de canciones de Dona Maria la nueva versión doble en primer lugar estar en Itunes y amazone de doña Maria de amantes de conseguir la oportunidad de obtener la versión doble antes de que los radios de prensa y los oficiales ...

_________________
take care we Love You
God Bless You!
Dona Maria's team!
---
Permissions in this forum:
You
cannot
reply to topics in this forum